THE EVOLUTION
The Evolution is a Home Gym, unlike any other before it. Home Gyms have a reputation for being bulky, clunky, and heavy - rightfully so. Keeping your needs in mind, the Evolution has been designed to be none of these things. Your needs have been considered. Your convenience matters. That's why the Evolution is both compact and lightweight while being versatile enough to give you everything a busybody can ask for... and more. Using the assistance, resistance, and parallel bars, you can do 100+ exercises.
The Evolution comes with a unique assistance mechanism which can be used in a variety of ways, and for different reasons. Depending where you are in your fitness journey, you may need a bit of a helping hand. The assistance seat will help you perform the perfect:
– squat
– lunge
– plank
– yes, even push-ups!
And not just one, but many. Whether or not we like to admit it, there's a big difference between push-ups from your toes and push-ups from your knees. Now, everyone can do push-ups from your toes! Even with assistance, you're still required to engage your core which you don't get when modifying to your knees.
It's not just about going through the movement either. If you use the assistance properly, you will be executing the exercise, whether it's a squat or a push-up, properly – with the right form and through a complete range-of-motion. Why does this matter? It's matters because this maximizes the efficiency and effectiveness of the exercise and protects your joints over the long-term.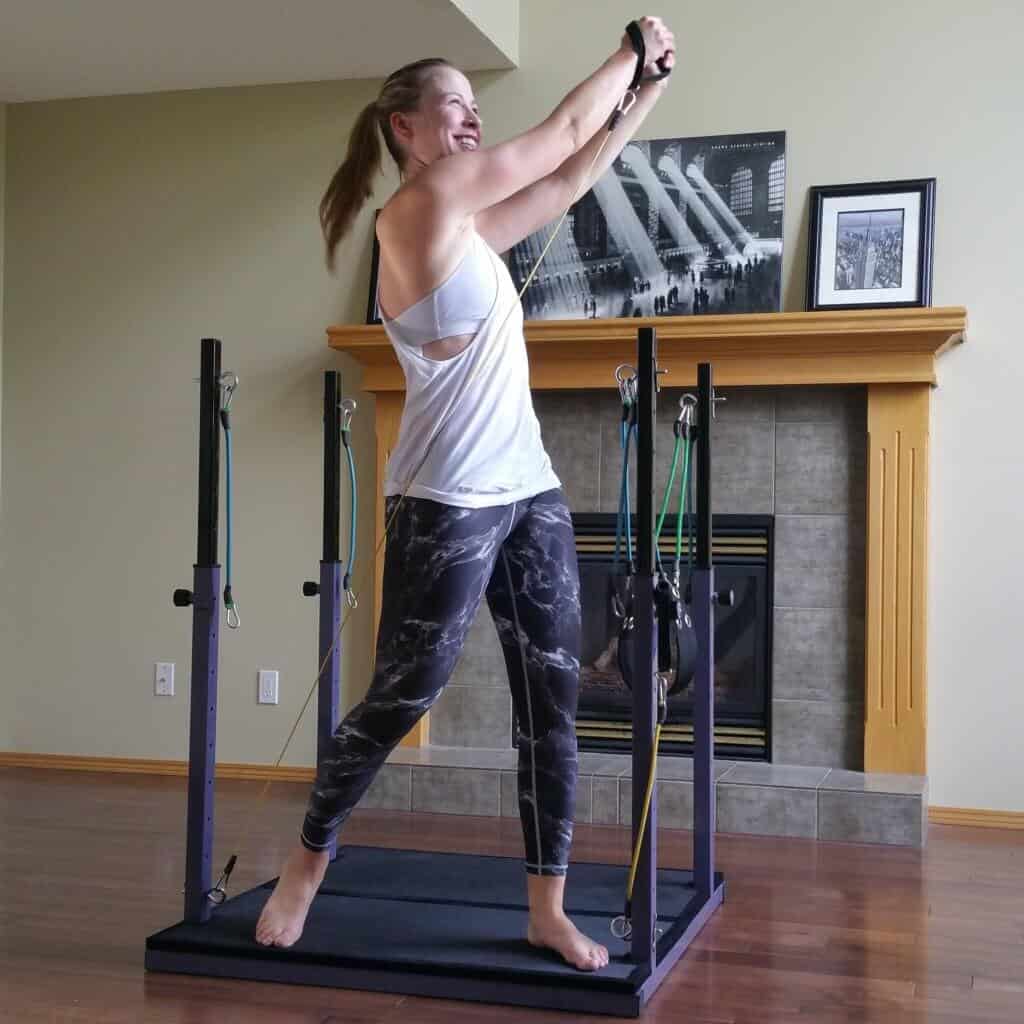 The Evolution comes with 170lbs of resistance and delivers 100+ exercises to help you build lean muscle, increase your cardiovascular capacity, gain control of your body, and simply feel better about yourself. You can replicate most movements that you can do in a gym and so much more. On the Evolution, it's not just about how much weight you can lift but also about how well you move the body that you have. That's how the Evolution helps you become the best version of you. You can develop your:
– strength
– conditioning
– stability
– core strength
– mobility
– coordination
– body control
Achieve your goals in just 10-minutes a day in the comfort of your home, on your time.
The Evolution also comes equipped with a set of parallel bars. Unlike other home gyms, which make you pay for extra tools, the Evolution comes with the tools that you need – included. On the parallel bars, you can take your workouts to the next level with core-blasting exercises like:
– knee raises
– resisted knee raises
– leg raises
– resisted leg raises
– hanging bicycles
– bar push-ups
– inverted rows
Exercises on the parallel bars are not easy so don't be discouraged if you can't do them right away; this will come with time. If you make it a goal, you'll get there!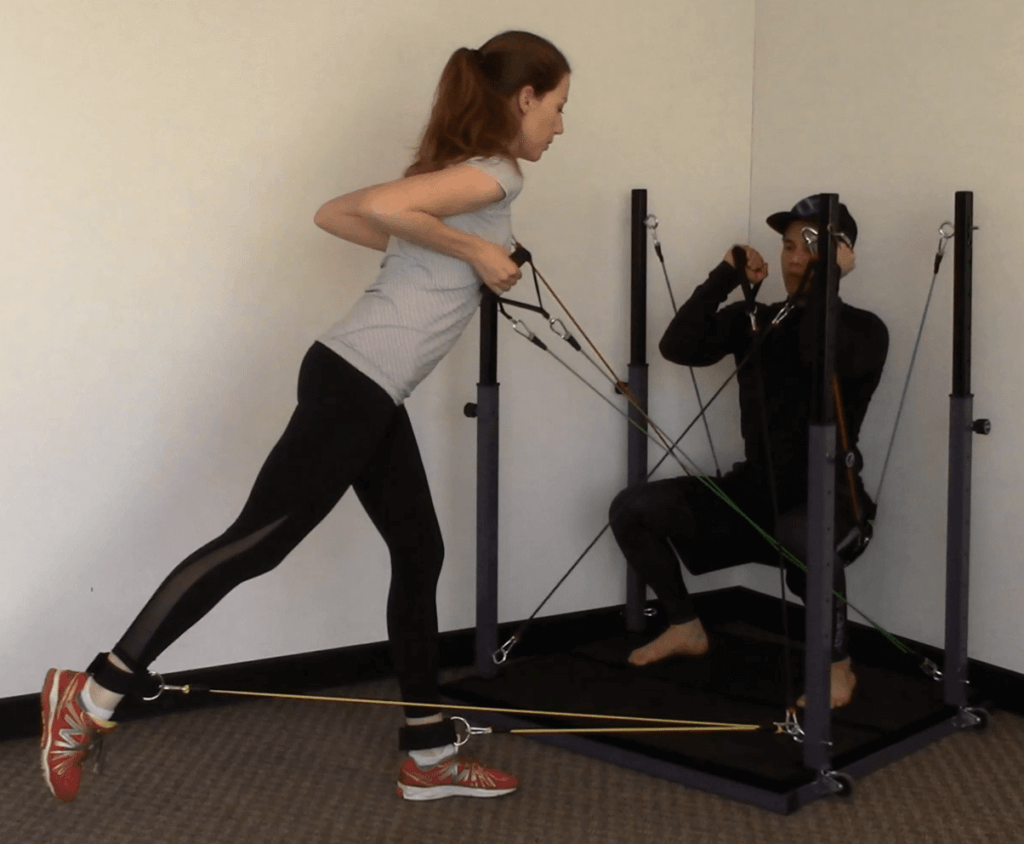 The Evolution has been uniquely designed to accommodate you and a partner. If you need the extra motivation, you can team up with your spouse, child, or friend. You never have to work out alone!
Get creative! Here are some potential partner sets that you can do (partner 1 / partner 2):
– squats / biceps curls
– shoulder presses / triceps kickbacks
– assisted squats / single-legged rows
– back lunges / back rows
– dips / shoulder side raises
– assisted push-ups / woodchops
There are countless combinations. You just have to get creative! As long as one partner is standing on the platform, it'll work. We'll also be there to guide you every step of the way.
Not convinced yet? Not only is the Evolution compact (3 feet x 3 feet) and lightweight (fully assembled < 40lbs), it is also extremely easy to assemble and take apart. There are no tools required and it'll only take you 2 minutes!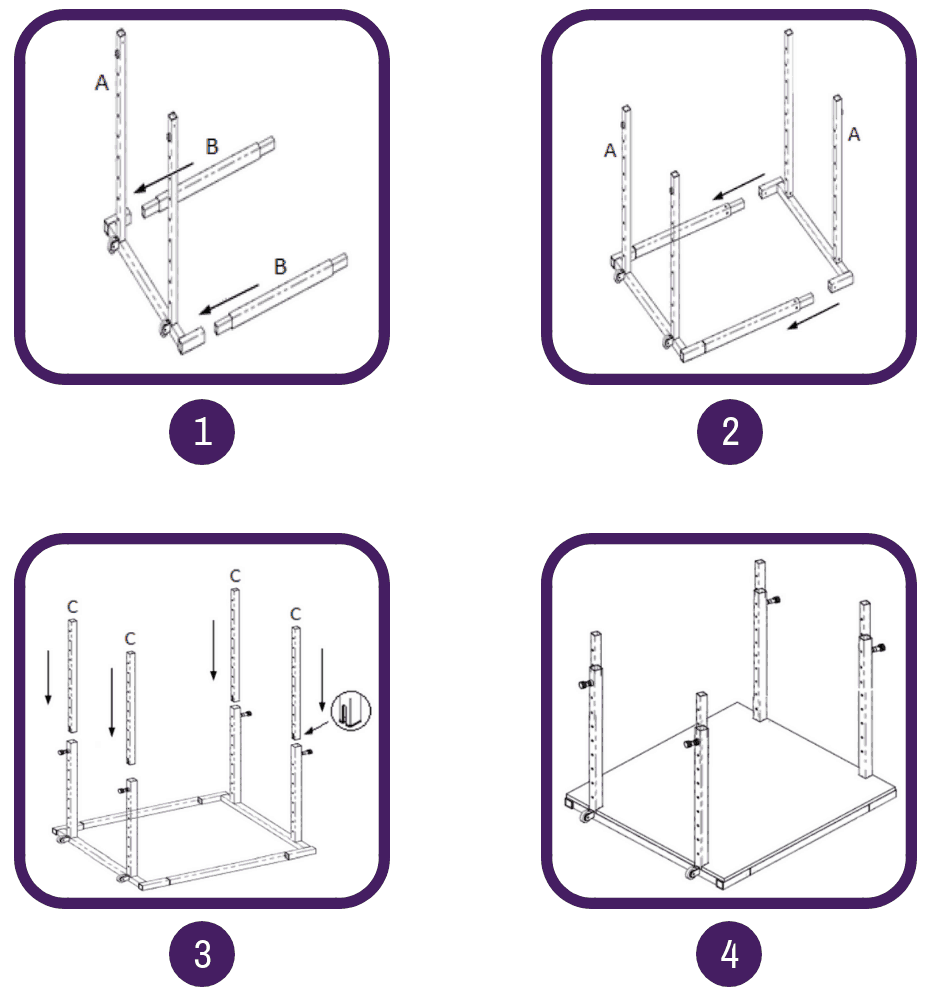 PORTABILITY
If you don't want to take it apart, the Evolution can be moved around with ease. Roll it in front of your TV, into your kitchen, or into your bedroom, and you're ready to go! When you're done, just roll it back.